Download for free today
Empowering agents to empower and connect their customers
Small businesses have a long road to recovery ahead. For some, it could take years to return to their pre-Covid baseline. Independent agents, with the inroads and infrastructure to connect small business owners, can play a vital role in quickening the recovery, rebuilding trust with the insurance industry, and creating resilience for small businesses in the future. How can the insurance industry support and enable them?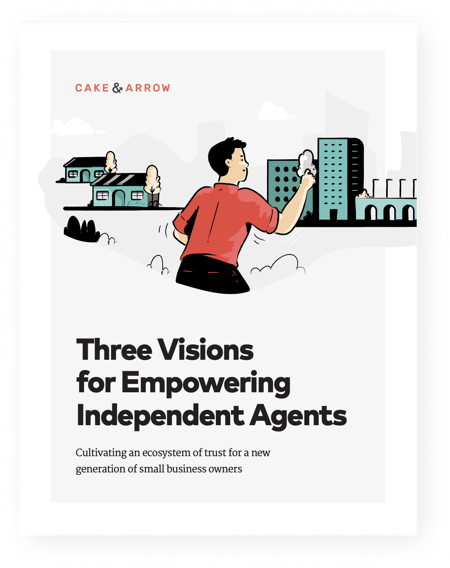 Learn how to cultivate an ecosystem of trust for a new generation of small business owners
Trust flourishes when agents are empowered with the tools not just to relate to their customers, but to help their customers relate to one another in meaningful ways. Our latest report explores:
A research-inspired vision for cultivating trust within the insurance industry
Over the course of the last year, we have spoken with hundreds of small business owners, gig workers, and freelancers from across the US. Learn what we heard from customers about the role of trust, the importance of community, and why independent agents are in a unique position to support them as they rebuild after Covid.
Strategies for leveraging and strengthening relationships to build trust in insurance
Our research found that while small business owners may not trust insurance companies, they do trust one another—and to some extent their agents. Learn how carriers can strengthen these bonds and reap the rewards of trust and loyalty.
Practical steps insurance carriers can take today to enable and empower agents
While the agent-broker paradigm can't be transformed overnight, there are things insurance carriers can do today—with tools, data, and resources already at their disposal—to kickstart transformation and cultivate an ecosystem of trust.
What people are saying
I always take the time to read Cake & Arrow's research – it's very impressive and never fails to offer a unique perspective on the industry.
- Jessie, SVP, Global Insurance Carrier